Balance Your Chemistry and Balance Your Life
This is what happened when these former overweight and unhealthy individuals asked that question.
1. Started Victoria's program ten days ago and I have already dropped 7 pounds! I am eating all the time and I have almost as much ENERGY as my two year old - J. Brown
2. Lost 15 pounds the first month on your program I can't believe my sugar cravings are gone - Greg J
3.Since starting your program I am more stable and I dropped two pant sizes in 30 days - Margarite V
4. Even at 58 years old, I still worried about my weight. I dropped 12 pounds in
the first 45 days on your program.  I am done dieting forever - Claire M
ARE YOU TIRED OF TUGGING ON YOUR CLOTHES AND PUTTING OFF LIFE UNTIL YOU FEEL AND LOOK BETTER?
So was I when I finally got fed up and went looking for scientific answers to my
Overfat producing problems. I found the answer and so much more that I couldn't keep quiet. I had to share it with the world.  I couldn't sleep at night knowing that someone like m, who use to cry themselves to sleep with a box of ice cream is looking for a permanent solution to their emotional eating  addiction.  Losing weigh permanently requires a three-prong solution.
1.     Biochemical
2.     Emotional
3.     Physical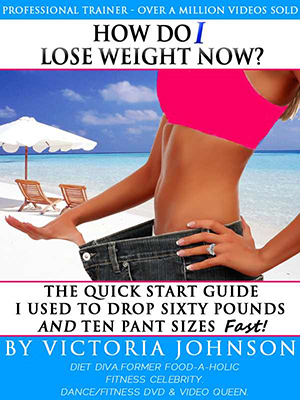 This book gives you the solution to each of those and also includes extraordinarily time tested and usable tools to help you finally lose weight and keep it off permanently.  Most notably from someone was so close to mentally giving up that she called a suicide hotline.  She survived her ordeal and not only turned her life and her health around, she is one of the most celebrated Fitness Icons of the decade and went on to become an endorsed Athlete, TV Star and Professional Trainer.  She's been there, done it and is professionally still doing if.  She can help you do it too.
Learn How You Can..
Balance Your Blood Sugar
Instantly Take Control of Your Appetite,
Eliminate Mood Swings,
Drop Several Inches From Your Hips, Abs and Thighs,
Rev Up Your Metabolism,
Beat Fatigue and 
Release Emotional Eating Patterns Forever!
A Bio Chemist Showed Me The Way!
A Biochemist got me on the right path and through research and working with him I found the Low Glycemic Program and my life changed in an instant.  I began to lose weight and it never came back, my skin became tighter, my cellulite began to disappear and my self-esteem rose like a thermometer in the Nevada Desert.
I conquered the depression, reversed the diabetes and my blood pressure went to normal.  My pants got baggy and my waist began to shrink.  I was got incredible results.  The results were so amazing that I kept going unitl I hit my perfect sexy weight!
I got is such great shape that I was able to make a celebrity Fitness career with my physique, talent and experience.  I took all the pieces and put them together for you.  It is My balanced, mind and body approach combined with a GI based eating program.  It is a healthy, balanced meal program which offers a realistic approach to keeping weight off for good.  Plus the CD's are amazing.  I would pay $100 just for the CD'S!  There are jam packed with body shaping secrets.
Is this program healthy? Is it like other than food specific diets that cut out whole food groups?
Yes, this program is definitely different than other weight loss program because it is based on healthy eating.  It is based on eating the right combination of high quality protein, complex carbohydrates, hydrating with optimum fluids and staying youthful with proper fats. 
Plus I give you some insider secrets about reducing cellulite and belly fat.
Here are some other important life changing benefits:
Consistent weight loss
Never feel hungry
Less mood swings
Less PMS- less bloating
Stabilize blood sugars and banish cravings
Clarity of thinking – less mental stress
Lower risk of diabetes and heart disease and
Cheaper - save money on expensive snack foods and pharmaceuticals
By changing my diet and getting bio-chemically balanced, I was able to write out my career and business plan. I was able to become the star of my own television show, write books, train professional athletes and entertainers and create some of the Top Selling Dance/Fitness Videos and DVD's in the world!
My entire life changed, I went from a neurotic kid to a mature and successful Business Person, International Trainer and Professional Performance Speaker and Television Fitness Celebrity.  I have been blessed to work with some of the most intriguing people alive at this time.  There is no way I could have accomplished so much if I had not found my Quick Start energy Program. And I have only just begun!
Creative Inner Fitness Meditations#1 Bonus Gift (Free Audio)
Free Gift - MP3/CD Inner Healing, Creative Self Change
A Musical Meditation of Healing
This meditation guides you to gently release negative history and blocked emotions of the past, to heal yourself and naturally tap the rich well of your creativity within. Learn empowering, positive attitudes that will support your potential to be.
#2 Another Bonus Gift (Free Musical Affirmation Audio)
Another Bonus Gift!
Special Gift – Free Super Mind Transforming Affirmation Audio
 It will change your mental energy and help you develop a new way of thinking about you, your body and your destiny.  It's an effortless method that can have a lasting effect on every part of your life. 
#3 Amazing- SUPER Bonus Gift iPhone App
A Free Quick Start Glycemic Index App that  Goes with this program. I am so excited to have created a simple to use and easy to navigate Quick Start Glycemic Index Rating App for you.  It is an IPhone compatible App.  It is so simple and convenient to use. All you do is open the app and type in your food.